ICAHD Re-Building Project in the West Bank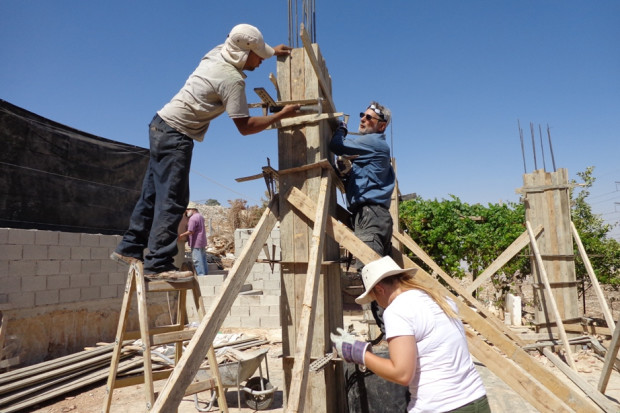 Urgent Appeal to Re-build Demolished Palestinian Home This Winter
ICAHD's December 2014 HOUSE REBUILDING PROJECT
Imagine if your home was demolished and you were powerless to do anything about it.
Since its founding in 1997, Israeli Committee Against House Demolitions (ICAHD) activists have been rebuilding Palestinian homes demolished by the Israeli authorities as a form of political protest against Israel's Occupation.
More than 48,000 Palestinian homes and structures have been demolished in East Jerusalem, the West Bank and Gaza since 1967. Home demolition is a form of collective punishment against innocent Palestinians who live under occupation and is a flagrant violation of the 4th Geneva Convention.
Never has your support been so needed. In the wake of the Israeli government's bombardment of Gaza over July and August, Palestinian, Israeli and international activists continue their non-violent resistance to Israel's Occupation through ICAHD; rebuilding together demonstrates that we are partners in peace-building.
ICAHD had planned to rebuild this specific home during its 12th annual rebuilding camp for internationals in August. However, the attack on Gaza and the ensuing unrest in the West Bank prevented proceedings. ICAHD is resolved not to cancel its commitment to the 'AF' family and with Israel's escalation of demolitions and displacement during 2014, this is precisely the time Palestinians need demonstrations of support and solidarity.
This winter we will rebuild this home for a family of seven plus others from the extended family. ICAHD believes the world must not ignore the travesties of Israel's Occupation and its impact on ordinary people. We ask you to donate anything you can to help finance this. To date ICAHD has rebuilt 187 homes.
Photograph from a former ICAHD re-build.
Salim Shawamreh inspecting the foundations of the new site.